By Marcia R Harmelink, DVM
James MacDonald accepted the 2021 Keith Waples Driver of the Year Award during the O'Brien Awards virtual ceremony recently. The thirty-six-year-old Guelph, Ontario driver led all drivers in Canada with the most wins, 304 (322 total in North America), and the most purse money won, $7,121,175 ($7,541,377 total in North America). How did a driver who never really thought he would be good enough end up as the leading driver in Canada?
James MacDonald, the youngest of five sons of Fred and Gail MacDonald, was exposed to harness racing at an early age. The family had a broodmare band at their home place in Cornwall, Prince Edward Island, and Gail worked as a track photographer. While his brothers Anthony and Mark were 'horse crazy,' James just wasn't that interested. What he was interested in were other sports, including hockey, football, baseball, and golf. At age 18, he had no interest in racing, and applied to Holland College on Prince Edward Island to study marketing and accounting. That summer, his brother Anthony needed help in his racing barn, and convinced James to come and work for him. James attended Holland College for one year, but had been bitten by the bug, and moved in with Anthony to help out full time.
He started like many, as a groom, then trainer, and started driving in 2009. He piloted the trotter Lonely Bay to a fifth-place finish at Georgian Downs in Ontario in his first outing as a driver. The five-year-old horse collected $425 in purse money, and "I took home $21.25," James deadpanned. His first win came two drives later at Charlottetown Driving Park in Prince Edward Island with Tougher Than Tough, a three-year-old pacing gelding, in Non-Winners of Three Races Lifetime for trainer Kuri White. That year he won six races and purse money totaling $39,039. His first couple of years he considered quitting many times, feeling like he probably couldn't cut it as a driver.
Fast forward to 2021, with the world upside down in year two of the global COVID-19 pandemic. Along with many other sporting venues, harness tracks had been shut down, and then opened, and Ontario tracks suspended racing again April 2, 2021. James had been driving full time, mostly in Ontario, for several years. He had a choice to make in the spring of 2021. He considered going to the US to spend some time with his brother Mark, a successful driver at northeast US tracks, and maybe get a few drives. It meant spending time apart from his young son Griffin, and his girlfriend Paige Austin, a nurse. He would have to rely on video calls, which have their own set of challenges with a four-year-old. He was pretty nervous about the idea of driving at The Meadowlands. He saw it as a risk–he could go and drive in the US and have little luck, and everyone would think he was no good. On the other hand, if things went his way, people might think he was pretty skilled. James had been driving for trainer Carmen Auciello in Ontario, and Auciello asked him to drive some of his horses that were being moved to The Meadowlands. In the end he felt it was a good opportunity brought on by an unfortunate situation, and he took it.
What an auspicious start James had! He ended up in The Meadowlands' winner's circle with five-year-old pacing mare Majestic Virgin in his first start on April 30, after leaving from post position seven. He gained a bit of confidence from that good beginning. The driver colony in that part of the country has some of the best drivers in the world, driving some of the best horses in the world, and that can be intimidating to a new driver coming in. He got a few more drives, got some good results, and his success started to snowball. He continued to drive at The Meadowlands, as well as The Downs at Mohegan Sun Pocono, and Yonkers Raceway, for the next several weeks.
Racing in Ontario resumed again on June 11, and James was back at Woodbine Mohawk Park. A change in his driving style after returning to Canada was obvious to anyone who regularly watched his drives. He took more risks and made more big moves. MacDonald has been asked several times what it was about those two months racing in the northeast US that affected how he drove afterwards. "It wasn't necessarily a change in driving style, but more so an increase in my overall confidence. It was through the roof. I was ready to go, I got some new opportunities, and I got to drive more good horses." He was brimming with confidence and felt he had proven himself. These days, rather than being concerned about what the others in the race will do, he is confident every time he gets on the bike.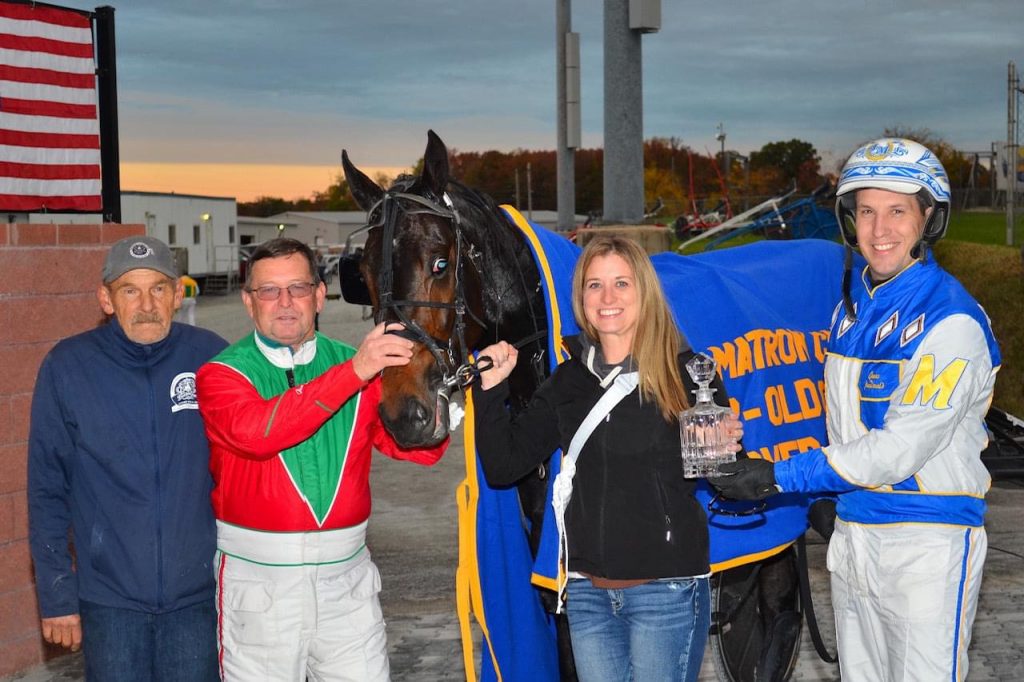 Proof of his new-found self-assurance was reflected in his success in 2021. He drove Lindy the Great to a win in the Maple Leaf Trot at Woodbine Mohawk Park for Julie Miller. He won the Matron Stake two-year-old Colt & Gelding Trot with TheStable.ca's lightly raced Threepointbluechip at Dover Downs with a bold move to the front just before the quarter pole for Jim King, Jr. James picked up a drive on Gia's Surreal due to an unfortunate injury to regular driver Bob McClure. He piloted the longshot to a second-place finish in the Breeder's Crown Open Mare Pace. He also reined three winners on Ontario Sires Stakes Superfinals night at Woodbine Mohawk Park: Prohibition Legal, Twin B Archie, and Adare Castle. "The Superfinals has been my Achilles' heel," said MacDonald. "Last year I won one, and it was the first ever for me. This year, I won three, and it was perfect."
What's ahead for MacDonald? He would like to stay healthy and be consistent in his driving. He would love to be in the hunt for another O'Brien award. "I never said that out loud before because I never thought I had a chance before," he admitted. His advice to drivers just starting out is, "Don't be afraid to ask questions of your peers and those you respect." He advises them, "Don't act cocky, but be cocky in your mind. Above all, believe in yourself."
—
Dr. Marcia Harmelink is client of TheStable.ca