GUELPH, ON — TheStable.ca celebrated an unprecedented seven wins on July 4, including a track record, series sweep and one of its flashiest victories to date.
Perhaps the biggest winners of the day are the track photographers at the five tracks where the victories were secured for the fractional ownership operation. A total of 199 people own individual stakes in the seven winning horses.
Swinging Senorita headlined the banner day with a thrilling win in the $150,000 Next Generation Series for rookie trotting fillies at Scioto Downs. It was her second win in three starts and the 1:56.1 clocking was a new personal best. TheStable.ca President and Co-Founder Anthony MacDonald drove for trainer Jason McGinnis.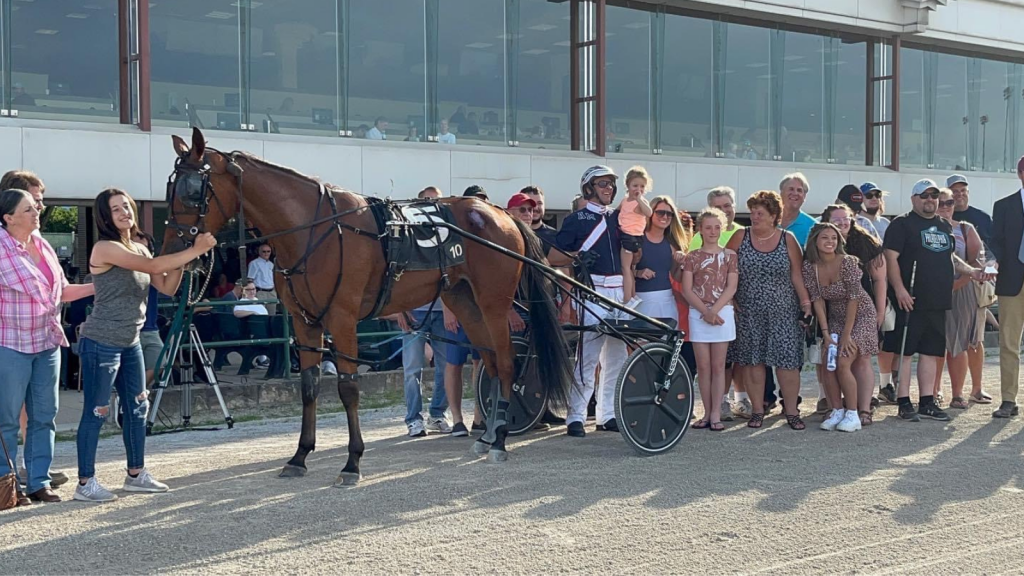 McGinnis heads TheStable.ca's Ohio operation based out of Northfield Park. He celebrated a personal milestone, notching training win #900 with Sweet On Pete in the second division of the Jay Hackenbach Trot at Scioto Downs where MacDonald guided the sophomore trotting filly to a hat-trick in a new career best of 1:54.4. (McGinnis also scored his 800th win in July of 2021 with Sweet On Pete.)
Stablemate Purple Aura won the earlier Hackenbach division, wiring the field in 1:56.3 with MacDonald. It was the filly's ninth career win.
Blue Bayou Deo kicked off the busy Monday which saw 17 horses racing at eight tracks in Canada, Australia and the U.S. The three-year-old trotting filly won by a length in 1:53, establishing a new track record at Oak Grove Racing. She was piloted by John MacDonald for trainer Jason Robinson.
The chestnut trotting colt Crantini was the next victor, winning his pari-mutuel debut at Pocono Downs in the PA All-Stars. Sent off at 8-1, he was driven by Scott Zeron for trainer Megan Scran in 1:56.4.
Patrikthepiranha A earned TheStable.ca's fifth win of the day and his fifth win of the season at Plainridge Park. Bruce Ranger piloted the Australian ex-pat in 1:51.1 for trainer Melissa Beckwith. It was the seven-year-old pacer's 20th career win.
Chocolateforlunch provided a sweet finish to the day, holding on to win her freshman debut by a head at Grand River Raceway with Scott Coulter for trainer Debi O'Brien-Moran in 1:59.
Other notable performances from the day's starters included a second-place finish by Bolt Power in Woodbine-Mohawk Park's Pop-Up Series, a third-place finish from Warrawee Flyer at Redcliffe Harness Track in Australia, and a fourth-place for rookie What A Mission in his $150,000 division of the Next Generation at Scioto Downs.
-30-
Photo: (Conrad Photo) Swinging Senorita and Anthony MacDonald winning the Next Generation for 2-year-old trotting fillies on July 4/22 at Scioto Downs.
FFI: Kelly Spencer kelly@thestable.ca