GUELPH, ON — The 64 yearlings at TheStable.ca will receive a world-class race call months before they even make their first pari-mutuel start.
Hall Of Fame race announcer Roger Huston is the special guest of TheStable.ca's Christmas Open House on December 15. The Voice will join the commentary team for the livestream broadcast of the event which features yearlings from the fractional ownership stable training in sets at Tomiko Training Centre in Puslinch, ON.
The broadcast kicks off at 10:00 a.m. EST. Viewers can watch and chat online at www.thestable.ca.
Huston, 77, recently resigned his position as the announcer and TV host at The Meadows Racetrack where he was the voice of racing since 1976. Prior to joining The Meadows team, he worked at Ohio fairs, Lebanon Raceway, the Red Mile, Pompano Park, and the Delaware, Ohio, County Fair, where he began calling the Little Brown Jug in 1968.
He has called more than 188,000 races covering 145 tracks in 20 states and eight countries.
He is now working as Brand Ambassador for the Ohio Harness Horsemen's Association and will continue to work some county fairs in Ohio, The Vincent Delaney Memorial in Dublin, Ireland and The Little Brown Jug.
"I'm looking forward to announcing for TheStable.ca at Tomiko Training Centre, as this will be my 146th venue to call races," said Huston. "Trips to Canada give me the opportunity to meet some of the greatest fans of our sport."
Earlier this year, Huston released The Voice: The Unparalleled Life Of Roger Huston.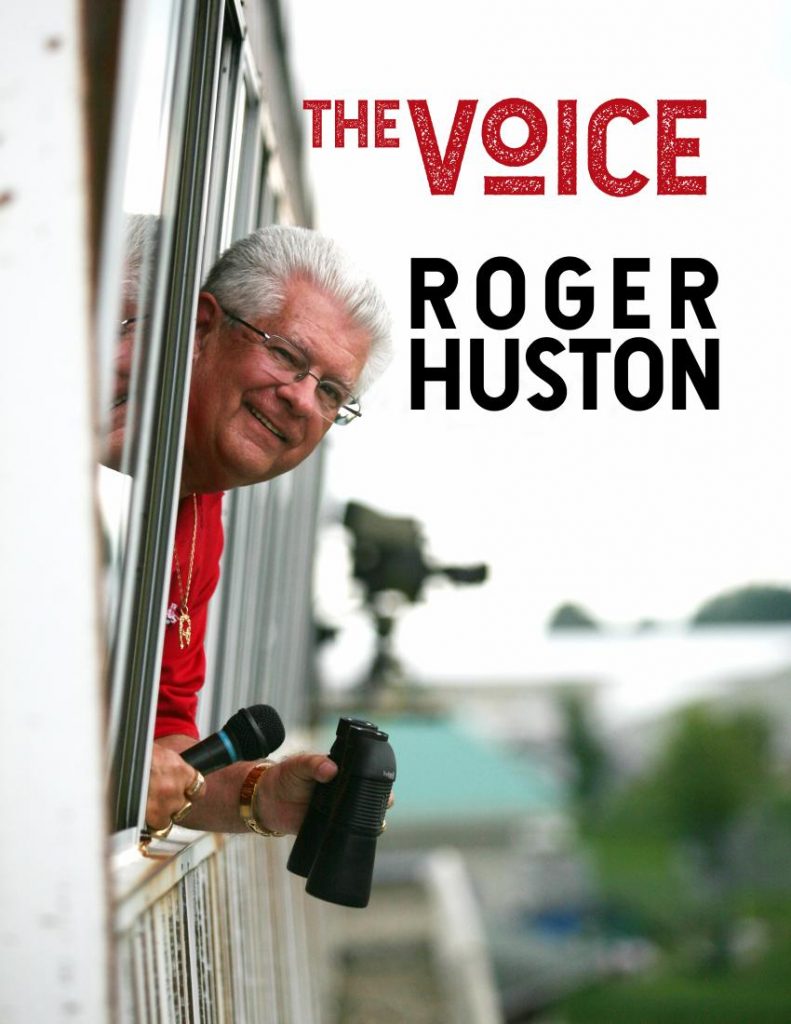 Written by Victoria M. Howard, the book contains colourful stories of Huston's 60-year career as a race announcer and includes 80 original photos of harness racing's champion horses and top drivers, revisiting every Little Brown Jug and Adios.
Huston will take two breaks from announcing the yearling sets on the livestream broadcast to greet fans and sign books from 10:00 a.m. – 10:30 a.m. and again from 1:00 p.m. – 1:30 p.m. Books will be available for sale (cash only) at the Open House for $40 CDN (hard cover) and $25 CDN (soft cover).
The Open House at Tomiko Training Centre (210 Campbellville Rd., Hamilton) is free to attend and all ages are welcome. Guests are invited to drop-in any time from 10:00 a.m. to 2:00 p.m.
The event is free but an RSVP is requested. Those who RSVP online are eligible to enter to win prizes, including Huston's book and a 1% share of their favourite horse with free bills for one year (conditions apply).
During each Christmas Open House, TheStable.ca raises money for a local charity; this year the company is collecting non-perishable food items to donate to the Guelph Food Bank. Supporters can also donate funds online directly to the food bank.
The Open House will showcase many of the engaging features of TheStable.ca, including its bi-weekly live streaming video broadcasts of the horses in training. Visitors can explore the barns and meet TheStable.ca's 138 horses on their own or register for a guided tour.
The catalogue is available above detailing all horses for which fractions are available for purchase and includes a schedule of when each horse will be showcased on the broadcast during the Open House.
Onsite purchasing will be available for shares of horses and payment can be made with credit card, PayPal, cash, cheque and e-transfer.
The facility offers a heated viewing area with limited seating. Hot and cold drinks will be available and lunch is also available to purchase from Hotdiggitydog.
Santa will arrive via trotter-drawn race bike at 11:30 a.m. for a free 90-minute photo session with youngsters.
About TheStable.ca
TheStable.ca is horse racing's fastest growing fractional ownership operation and the largest harness racing stable in Canada.
During the racing season, there are approximately 150 Standardbred horses racing in eight jurisdictions throughout North America. The horses are owned by 700+ people from 12 countries worldwide.
The innovative and engaging model invites people to own a little and love it a lot. Clients can purchase as little as one percent of a horse, making the thrill of harness racing and racehorse ownership accessible and affordable.
This award-winning fractional racehorse ownership operation was crafted in 2015 by Anthony and Amy MacDonald of Guelph, ON to remove the traditional barriers to racehorse ownership: cost, access and risk. Communication and customer service are the cornerstones of TheStable.ca. The operation embraces technological solutions to engage audiences, deliver consistent updates about the horses and create an ongoing entertainment experience.
-30-
The Christmas Open House is free but an RSVP is requested
For more information, contact Kelly at kelly@thestable.ca or (519) 465-7908.