GUELPH, ON — TheStable.ca's annual Winter Open House will be an entirely virtual experience this year, delivered via livestream from 8:30 a.m. – 12:30 p.m. EST on Friday, December 24.
The Open House will showcase many of the engaging features of the award-winning fractional horse racing ownership operation, including its bi-weekly live streaming video broadcasts of the horses in training.
Sixty yearlings will be shown jogging in sets throughout the event, captured by drone camera and presented with graphics and commentary provided by Anthony MacDonald, Fred MacDonald, and Mark McKelvie.
The event will be livestreamed on TheStable.ca website and social media. Prizes totaling more than $1,000 will be awarded throughout the broadcast. To be eligible to win prizes you must be a current client of TheStable.ca or be part of the mailing list.
To join the mailing list: http://eepurl.com/cuRKYj
Prizes include: merchandise prize packs from the Breeders Crown, Hambletonian and the Raceway at Western Fair; $100 gift cards for HPI and Amazon; $100 account credits for TheStable.ca.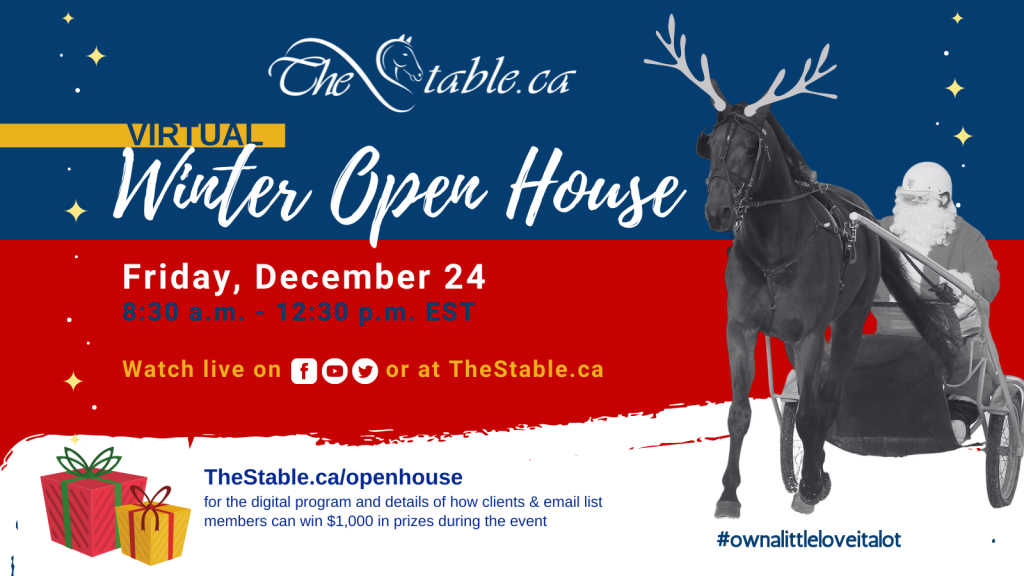 As part of the Open House festivities, TheStable.ca is supporting The Raceway at Western Fair's Toys For Tots fundraiser, part of its Drivers' Holiday Challenge to be raced on December 12. Anthony & James MacDonald are two of the eight drivers participating in the event.
In past years, TheStable.ca Open Houses have raised more than $10,000 for local foodbanks and horse adoption societies. By supporting The Raceway's initiative (and cheering on Anthony & James in the Challenge) donors will help Toys For Tots purchase Christmas toys for children in need.
In the spirit of the season, one donor will be randomly drawn to win a video call with @calgarysanta — one of TheStable.ca's 800+ clients from around the globe (including the North Pole). The winner will be announced on December 13.
To make a cash donation: https://www.canadahelps.org/en/pages/thestableca-winter-open-house-fundraiser
---
Program for 2021 Virtual Winter Open House
The program for the Open House will be available online on December 21, detailing all yearlings featured on the broadcast and a schedule of when each horse will be showcased on the track. The guide will include feature stories about the horses, staff and clients of TheStable.ca
---
About TheStable.ca
TheStable.ca is horse racing's fastest growing fractional ownership operation and the largest harness racing stable in Canada.
Between 100 – 150 Standardbred horses are part of TheStable.ca at any given time, racing in nine jurisdictions throughout North America and Australia. The horses are owned by 800+ people from 13 countries worldwide.
The innovative and engaging model invites people to own a little and love it a lot. Clients can purchase as little as one percent of a horse, making the thrill of harness racing and racehorse ownership accessible and affordable.
This award-winning fractional racehorse ownership operation was crafted in 2015 by Anthony and Amy MacDonald of Guelph, ON to remove the traditional barriers to racehorse ownership: cost, access and risk. Communication and customer service are the cornerstones of TheStable.ca. The operation embraces technological solutions to engage audiences, deliver consistent updates about the horses and create a unique ongoing entertainment experience.
-30-